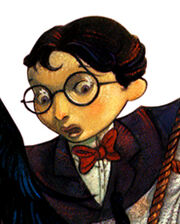 Klaus Baudelaire is the middle Baudelaire child. He has large, round glasses which helps him in his hobby of researching and reading books. He creates a commonplace book where he stores the information he collects in the tenth volume of the series. He is also friends with the Quagmire triplets who they meet in the 5th book. Klaus gets hypnotized in the 4th book, another scheme devoloped by Count Olaf.
Ad blocker interference detected!
Wikia is a free-to-use site that makes money from advertising. We have a modified experience for viewers using ad blockers

Wikia is not accessible if you've made further modifications. Remove the custom ad blocker rule(s) and the page will load as expected.