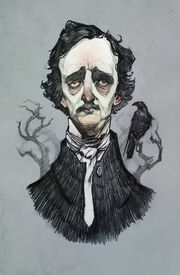 Mr. Poe is in charge of the Baudelaire fortune which is kept at his bank, Mulctuary Money Management. He is later promoted to be Vice President in Charge of Orphan Affairs. He decides where they should live. Mr. Poe always has cough and brought them the terrible news about the fire that killed their parents. They loose contact with Mr. Poe in the 8th book.
Ad blocker interference detected!
Wikia is a free-to-use site that makes money from advertising. We have a modified experience for viewers using ad blockers

Wikia is not accessible if you've made further modifications. Remove the custom ad blocker rule(s) and the page will load as expected.