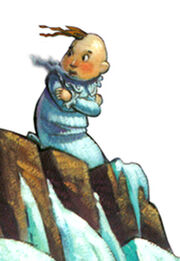 Sunny Baudelaire is the youngest Baudelaire orphan. She is still a baby and talks in a somewhat unusual manner. Such as:
"Resyca!" Which means "Or you could simply ask him to leave the penthouse and never return."
She has large, sharp teeth which came in handy many times. In the 9th book Sunny develops an interest for cooking and in the 10th novel is forced to cook for Count Olaf and his comrads.