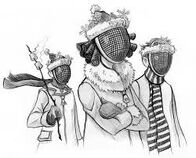 The Snow scouts are the children that the Baudelaires meet in the 10th volume. They wear round, dark masks with tiny holes to protect their faces from the Snow Gnats. Quigley Quagmire was hiding in group of organized youngters so he could find the V.F.D headquarters. Carmeltia was also a member of the Snow scouts so she could be crowned False Spring Queen on False Spring Day. Carmeltia's uncle, Bruce, is the head of the Snow scouts. The Snow Scouts are later captured in a large net by a group a eagles. The Snow Scout Pledge:
Snowscouts are accomodating, basic, calm, darling, emblematic, frisky, grinning, human, innocent, jumping, kept, limited, meek, nap-loving, offical, pretty, quarantined, recent, schedlued, tidy, understandable, victorious, wholesome, xylophone, young and zippered–every morning, every afternoon and all day long!
Ad blocker interference detected!
Wikia is a free-to-use site that makes money from advertising. We have a modified experience for viewers using ad blockers

Wikia is not accessible if you've made further modifications. Remove the custom ad blocker rule(s) and the page will load as expected.